About Pirkle Gutter Supply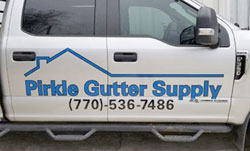 Pirkle Gutter Supply (formerly a division of Pirkle Sheet Metal) has been serving Northeast Georgia & surrounding areas since 1972. Pirkle Gutter Supply was formerly owned by the late Harold Pirkle & his son and daughter-in-law, Darrell & Joy Pirkle, until their retirement on January 1, 2019.
Pirkle Gutter Supply is now owned by Kevin Ray, owner of Ray's Gutter Works of Gainesville. Kevin has been in the Gutter Installation business since 1999. He & his wife Jennifer reside in the North Hall area with their 2 sons, Sawyer & Weston, & their dog, Lilly. Kevin & Jennifer are active members of Corinth Baptist Church.
Our goal is to supply or produce high quality products that meet or exceed the expectation of every customer. Integrity, Knowledge & Quality is the base of our business and we hope to have the opportunity to earn your business. Our knowledgeable staff is always available to assist you with your gutter needs.
Contact Pirkle Gutter Supply of Gainesville today for any of your gutter needs!
Your Home-town Gutter Supply Company - Locally-owned Family Business